The Tom Joyner Morning Show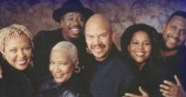 Tom Joyner was born in Tuskegee, Alabama, and received a degree in sociology from Tuskegee Institute (now Tuskegee University). While a student at Tuskegee Joyner joined Omega Psi Phi Fraternity and was an original member of the soul/funk musical group The Commodores. Joyner departed the group before it became an international success.
In the mid-1980s, Joyner was simultaneously offered two positions: one for a morning show at KKDA (K104) in Dallas and one for an afternoon show at WGCI in Chicago. Instead of choosing between the two, Joyner chose to take both jobs, and for years he commuted daily by plane between the two cities, earning the nicknames "The Fly Jock" and "The Hardest Working Man in Radio." He later told Radio Ink magazine that he racked up 7 million frequent flyer miles over the course of his employment at both stations.
In 1994, Joyner was signed by ABC Radio Networks to host the nationally-syndicated Tom Joyner Morning Show, featuring Joyner, a team of comedians, commentators reporting and discussing the latest news, and playing popular R&B songs from the 1970s to the 1990s as well as contemporary R&B hits. Also featured are celebrity guests, on-site remotes (called "Sky Shows"). Southwest Airlines is a prominent sponsor of the radio show, especially Joyner's "Sky Shows," and free round-trip airfare to any destination that Southwest flies to is a recurring giveaway on his show.